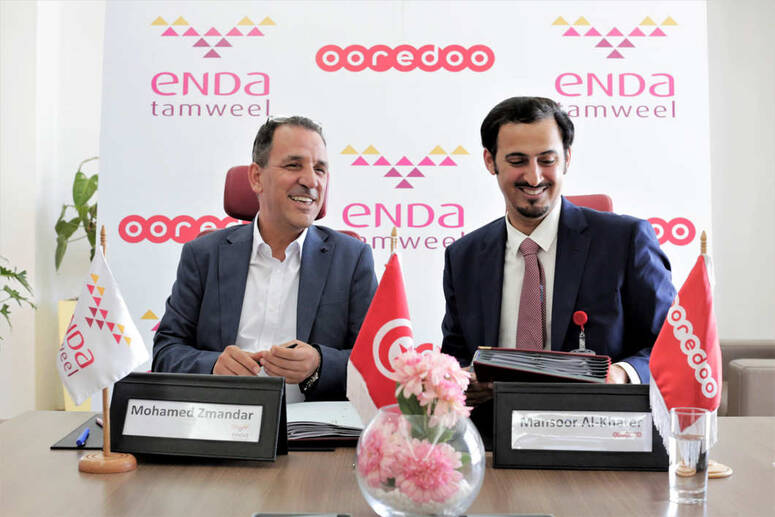 Communiqué de Presse -
Telecommunications operator Ooredoo Tunisia and microfinance institution Enda Tamweel have signed a partnership agreement, allowing Enda Tamweel employees to benefit from several advantages.
The purpose of this agreement is to broaden cooperation between the two partners, each leader in its field, and define the contours and terms of a new collaboration for the implementation of innovative solutions and interesting offers for 2,000 employees of Enda Tamweel.
Enda Tamweel has chosen the telecommunications operator Ooredoo for the quality of its performance, the excellence of its services, its continuous propensity for innovation and its know-how for providing services that meet the needs of its customers, in terms of technological ingenuity and operating costs.
Ooredoo General Manager Mr. Mansoor Rashid Al Khater said on this occasion that: "Ooredoo has put all its expertise at the service of this great organization with the aim of accompanying it, technically assisting it and supporting it as 'a micro-finance institution.
This partnership agreement between Ooredoo and Enda Tamweel is part of our strategy which is to participate in the development and economic development of Tunisia and to support the various players in micro-finance. This will allow them to have financial support and proximity services. "
"By signing this agreement, Enda Tamweel reaffirms its commitment to providing all of its employees with quality services. This agreement marks the beginning of a quality partnership with an operator recognized for the performance of its solutions and for the quality of its telecommunications networks. It will also create new synergies with a common goal of meeting market needs and providing the best quality, "said Mohamed Zmandar, Managing Director of Enda Tamweel.
Ooredoo Tunisia and Enda Tamweel are thus committed to increasing their reach in their respective markets by expanding the range of their collaboration.